Gentleman Spa, a new Taiwanese gay short film, premiered globally this Friday (18 October) on the streaming platform GagaOOLala. The GOL STUDIOS project, very well-received in the festival circuit, depicts the daily life of an overweight janitor (Hao-Zhe Lai) at a Taiwanese gay massage parlor who falls in love with one of their customers.
The film also co-stars Wang Ko-yuan, who recently played a murderer on the Catchplay and HBO Asia original series The World Between Us, in the role of a skilful gay masseur who will advise Lai's character on his love life. It was a big change for the actor coming from such a dark role to play such a sensual role. Wang confessed to having visited several massage parlors while researching for the role.
He also revealed what is the trick for a good "gay" massage: "when you press someone in a sensitive spot, release, and press again, the masseur's upper body will get very close to the other person. You can feel each other's temperature, breath… without making direct contact. It is in that uncertainty where the best fantasies live."
Wang is not the only who researched into his role, Hao-Zhe Lai gained 12 kilograms to play Hao. "I like to get close to my characters," he explained. In the film, he accurately conveys the shyness and sense of inferiority caused by the social stigma towards overweight people. When he was asked if he had any personal experiences linked to this topic, Hao explained that before he used to meet friends online and when they would finally meet each other in real life, the other person stood him up and unfriended him saying, "you are much fatter than what I imagined."
Masseur's interesting stories
Gentleman Spa is the third short film by the newcomer Yu Jhi-han. The inspiration for this film came from a good friend of his, a gay masseur, who shared many "interesting" stories with him. Based on them, Yu started to wonder, what kind of conflicts would arise for an unattractive person working on a place like this? The film had a stellar festival run being selected in international venues like BFI Flare, Frameline, Los Angeles Asian Pacific Film Festival, Rhode Island International Film Festival, Outfest, and more.
During one of the screenings, Yu said, one girl from the audience started crying and said that she felt completely identified with the main character's struggle being an overweight person. The director said he did not expect to change the current body culture but he definitely hoped that he can bring people closer to accepting themselves.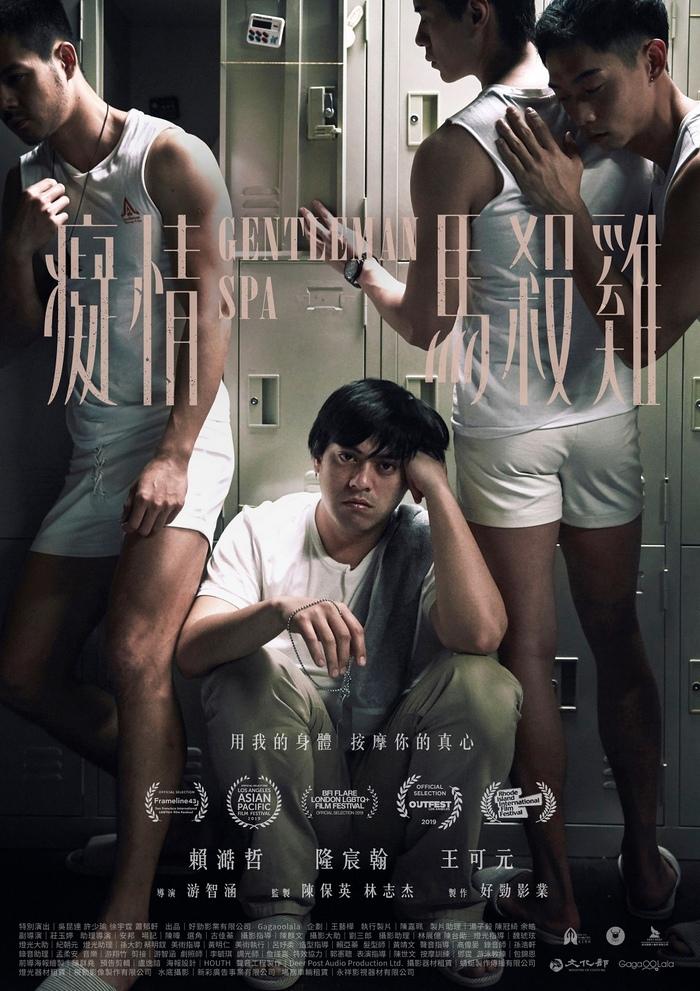 Gentleman Spa is the first of a new batch of original titles coming to GagaOOLala. Next Friday, October 25th, the platform will release Handsome Stewardess a six-episode series directed by Zero Chou. Shot between Taiwan and Singapore, the series follows a butch lesbian as she struggles with the sexist world of flight attendants. Next month, it will be the turn for the second season of Drunk Buddies where famous queer people play a dangerous drinking game against each other.
And already in 2020, GagaOOLala will release the Golden Horse nominated feature The Teacher, the same-sex marriage documentary Are We Married Yet? and the Thai BL sequel Present Still Perfect. All of these projects, together with Gentleman Spa, are part of GagaOOLala's production platform GOL STUDIOS, a platform aiming to aid queer filmmakers around the world complete their films, offering funding, production and distribution resources.
Synopsis
Hao, a chubby gay man, works as a janitor at a gay spa. For him, romantic relationships are an unreachable dream. One day, an attractive customer, Kai, walks in and gives Hao the opportunity to massage him. As they talk and get to know each other, they bond. However, things do not go as smoothly as Hao expected...